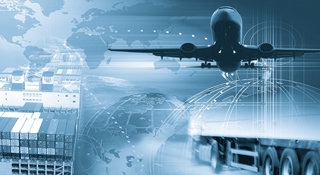 TVM GLOBAL Forwarding & Logistics LLC (formerly known as Glorious Shipping LLC) was established in 2003 with the aim of providing total quality logistics solutions to suit client's specific requirements. We are currently headquartered in Dubai, the commercial capital of U.A.E and offer extensive supply chain services including freight forwarding, pick-up and delivery, warehousing, customs brokerage, trucking, packing/crating, and consolidation and break-bulking.
With a network of independent transportation and logistics companies and key affiliated service providers, we are capable of providing an unparalleled resource of transportation, value added logistics services and computerized connectivity for customers on a global scale.
At TVM GLOBAL, we aspire to be a premier global provider of integrated logistics, transportation and information solutions. By integrating a worldwide resource of air, ocean, ground and value added services with innovative information systems; we provide a complete management of the entire supply chain. Our approach has always been to provide a wide range of global logistics solutions to satisfy the needs of our customers. We accomplish this by forging a close relationship with our customers, building an understanding of their industry, and communicating with a mutual focus on the goal. We pride ourselves in possessing knowledgeable staff with a commitment to customer service excellence.
We are committed to building relationships with each of our customers. As your trusted partner, we'll always provide quality services; flexible transportation solutions, proactive communication, and innovative technology to help you and your business thrive.